Workshop venue :
The Workshop will be held in the center of Bologna in:

Aula della Specola,

UniversitÓ degli Studi di Bologna,
Via Zamboni 33
(see map)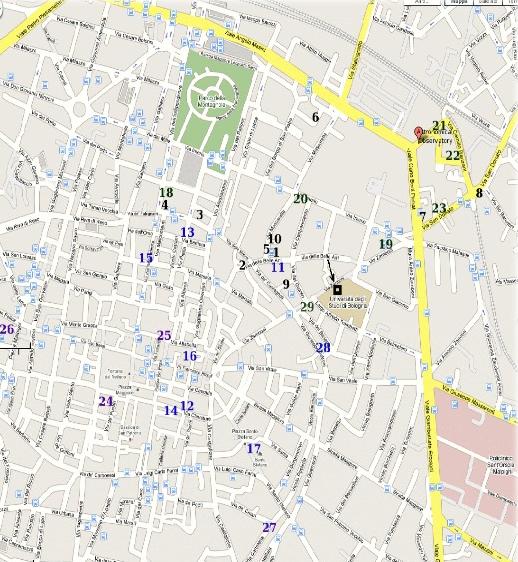 Workshop times :


The Workshop will begin on Tuesday, 29 May around 9am and end on Thursday, May 31 at lunch time.




Travel information :



Bologna can be reached by

flight

from many European and Italian cities (including
e.g. London, Paris, Brussels, Amsterdam, Madrid, Munich, Frankfurt, Rome, etc).
There are both regular (Air France,

Alitalia,

British Airways, Iberia, KLM, Lufthansa, etc), and low-cost (EasyJet,

Ryan Air,

etc) carriers.
The airport is called

Guglielmo Marconi

and the code is BLQ (see airport website).

Bologna (main railway station is called

Bologna Centrale

) can be reached by

train

from any italian city and major European ones.
Typical travel times are (with fast trains, aka e.g. FrecciaRossa, FrecciaBianca): from Rome 2.5 h, from Milan 1.1 h, from Venice 1.5 h, from Florence 0.6 h
(see Trenitalia website )


See the following web site for useful information, maps, tips on how to get around in
Bologna :

Information in English






Hotel information :



Hotels near the University (in case you were not booked directly by the organization) :

Hotel Paradise ***

Hotel Accademia ***

Hotel University ***

Hotel San Donato ****


For more, see e.g. tourist info (from the Osservatorio Astronomico di Bologna webpage)
or here (Bologna Welcome)



Bar & Restaurant information :



Lunch will be provided by the organization on May 29 and 30.
Find here information some information on nearby bars and restaurants.