The series of the Bolognese Ephemerides was started in 1715 by Eustachio Manfredi (Bologna 1674-1739), the first director of Bologna Observatory; then his successors continued the series up to 1844. In these Ephemerides Urania appears in two different engravings, both with the town of Bologna in the background.
ZANOTTI, Eustachio
Ephemerides motuum coelestium ex Anno 1775 in annum 1786 ad meridianum Bononiae ex Halleii tabulis supputatae.
Bononiae, ex Typographia Laelii a Vulpe, 1774.
pp. [2], VIII, 384. 4°.
XI . 9 . 26
Lalande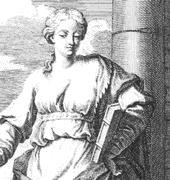 The first engraving shows Urania with a book under her arm and another one under her foot, surrounded by astronomical instruments: a wall clock, compasses, a movable quadrant and a square.

The frontispiece is signed by Anton Maria Zanetti (Venice 1680-1757) and Bernard Picart (Paris 1673-1734). Zanetti started to work at the school of Bambini, Balestra and Sebastiano Ricci in Venice, then he worked in Bologna with Giovanni Maria Viani. A very famous personality in venetian artistic life in the XVIII century, Zanetti was not only engraver, but also printer, collector and scholar. He reorganized the art collections of the Prince of Orléans in Paris and of the Prince of Liechtenstein in Vienna. Bernard Picart used to work both with the burin and with the etching technique, but also used to make xilographies. His favourite subjects are allegorical and mythological. He died in Amsterdam.

Eustachio Zanotti (Bologna 1709-1782) succeeded Eustachio Manfredi in 1739 in the direction of Bologna Observatory, which he equipped with new and more powerful instruments. With the new instrumentation he performed observations of the Sun, the Moon, the Planets and of comets, which were published in the Transactions of the Academies of Sciences of Bologna, Paris and London.
CATUREGLI, Pietro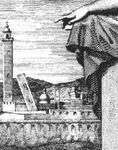 Ephemerides motuum coelestium ab anno 1817. ad annum 1822. ad meridianum Bononiae supputatae.
Bononiae, ex Typographia Iosephi Lucchesini, 1819.
pp. [2], XVI, 312, XXVIII, [4]. 4°.
DCCC - f° - 44
Poggendorff
The anonymous engraving accompanying the Ephemerides of 1819 depicts Urania crowned with stars, an armillary sphere in her hand, pointing to the town of Bologna in the background; the Two Towers (Asinelli and Garisenda) and the Tower of the Observatory, built in 1725, appear in the landscape of Bologna. The Astronomical Museum of Bologna owns an armillary sphere similar to the one held by Urania, gift of Pope Benedict XIV.

Pietro Caturegli (Bologna 1786-1833) was assistant at Bologna Observatory at first, then director until he died. After his death, the Observatory started to decline and even the series of the Bologna Ephemerides stopped publication, in 1844.
---
Biblioteca del Dipartimento di Astronomia
Pierluigi Battistini, Laura Peperoni e Marina Zuccoli