FLAMMARION, Nicolas Camille
L'astronomia popolare.
Milano, Sonzogno, [1885].
pp. 784, ill.
VI . 5 . 19
NUC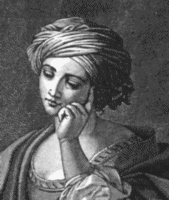 It is not very easy to recognize the sweet young woman, sitting in a thinkful attitude in an illustration taken from the Astronomia popolare by Flammarion, but some of her attributes encourage to identify her with Urania.

The woman wears an uncommon oriental headdress and rests her arm on a table, near an inkpot, a sheet of paper, a pair of compasses and a book. The book is entitled Sibilla frigia: in Varro's tradition, the sybils were ten women endowed with the faculty of foretelling, and among them the ninth, the Phrygian Sybil, used to tell the future in Ancyra.

Nicolas Camille Flammarion (Montigny-le-Roy 1842-1925) was a French astronomer and geophysicist, famous for his activity in the field of the double stars and for his observations of the Sun and of the Moon. He is best known for his assiduous activity in the vulgarization of astronomy, that lead him to write several popular treatises, lavishly illustrated, among which the Astronomie populaire, published in 1879.
MAGGINI, Mentore
Il libro di Urania.
Milano, Hoepli, 1943.
pp. XIV, 286, ill.
A 77
NUC

It is good to remember also a work of this century, the Libro di Urania by Mentore Maggini. It is a book for children, conceived to teach them the basics of astronomy through the fiction of a young girl talking to them. She is Maggini's daughter, who explains the mysteries of the sky in plain words to her little friends, in a lively conversation full of questions and answers:
Mi chiamo Urania, la musa dell'astronomia, la Dea dei cieli. Spazio da pianeta a pianeta, da astro a astro, cavalco le pių focose comete e con esse m'immergo nel buio dell'infinito e con esse ritorno. Non vi č piccola stelluccia che non mi sia conosciuta, non recesso di cielo di cui non conosca gli abitatori. Mi chiamo Urania e sono una bimba. Una bimba appena tredicenne.

Transl: My name is Urania, the muse of astronomy, the goddess of the skies. I survey the planets and the stars, I ride the fieriest comets and together with them I plunge into the deep infinity, and then I come back. There is no tiny little star unknown to me, no corner of the sky whose inhabitants I do not know. My name is Urania and I'm a little girl. A little girl thirteen years old.
The girl speaking is Urania, lovingly called Ninė, Mentore Maggini's daughter who died when she was only thirteen: this book was written by her father in her memory.

Mentore Maggini (Empoli 1890-1941) was director of the Observatory of Collurania, near Teramo, since 1926. He is known for his observations of Mars, that he started at the Osservatorio Ximeniano of the Piarist Fathers in Florence and which were published in the volume Il pianeta Marte (1939). He also made important studies about the photometric binary systems, that led him to the construction of a new model of interferometer for the Observatory of Collurania.
---
Biblioteca del Dipartimento di Astronomia
Pierluigi Battistini, Laura Peperoni e Marina Zuccoli