NEAR-IR PROPERTIES OF GLOBULAR CLUSTERS
IN THE GALACTIC BULGE
ELENA VALENTI, FRANCESCO R. FERRARO & LIVIA ORIGLIA
We present the largest and homogeneous photometric survey of Globular Clusters (GCs) towards the Galactic Bulge obtained with the near-IR cameras SofI (NTT/ESO) and IRAC2b (MPI2.2m/ESO). The data have been presented and discussed in Valenti, Ferraro & Origlia (2007, AJ, 133, 1287) and Valenti, Ferraro & Origlia (2009, MNRAS, astro-ph/0911.1264) where the readers can find more details on the photometric reduction, calibration, astrometry and on the adopted strategy to derived the main cluster physical parameters.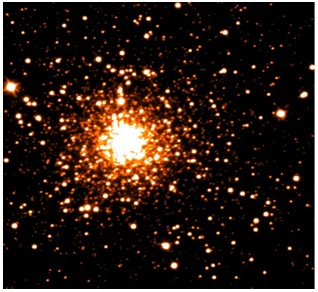 The clusters sample (listed in Table 1) counts ~80% of the entire Bulge GC system and it spans a metallicity range of -1.73<[Fe/H]<-0.17. The position in Galactic coordinates of the Bulge clusters with respect to the COBE inner Bulge outline is shown in Fig. 1

For each observed clusters, the compilation includes:
i) J, H, K magnitudes for all measured stars, together with the stars absolute position R.A. and
DEC (with a rms residuals of ~0.2" on both R.A. and Dec)
ii) measurements of the reddening and distance
iii) the observed Red Giant Branch fiducial ridge lines in the [K, J-K] and [H, J-H] planes
iv) photometric metallicity estimates ([Fe/H] and [M/H]) derived by using the empirical IR relations presented by Valenti, Ferraro & Origlia (2004, MNRAS,351,1204)
v) the J, H, K magnitudes of the Horizontal Branch Red Clump
vi) the J, H, K observed and bolometric magnitudes of the major RGB evolutionary features, namely the Bump and the Tip.