Events timeline

Mar 15, 2019
"Luigi G. Jacchia, un triestino a Bologna: dai cieli di Loiano all'epopea spaziale americana",
2019, Giuseppe Pisana's MSc thesis, Physics & Astronomy Dept., Bologna University.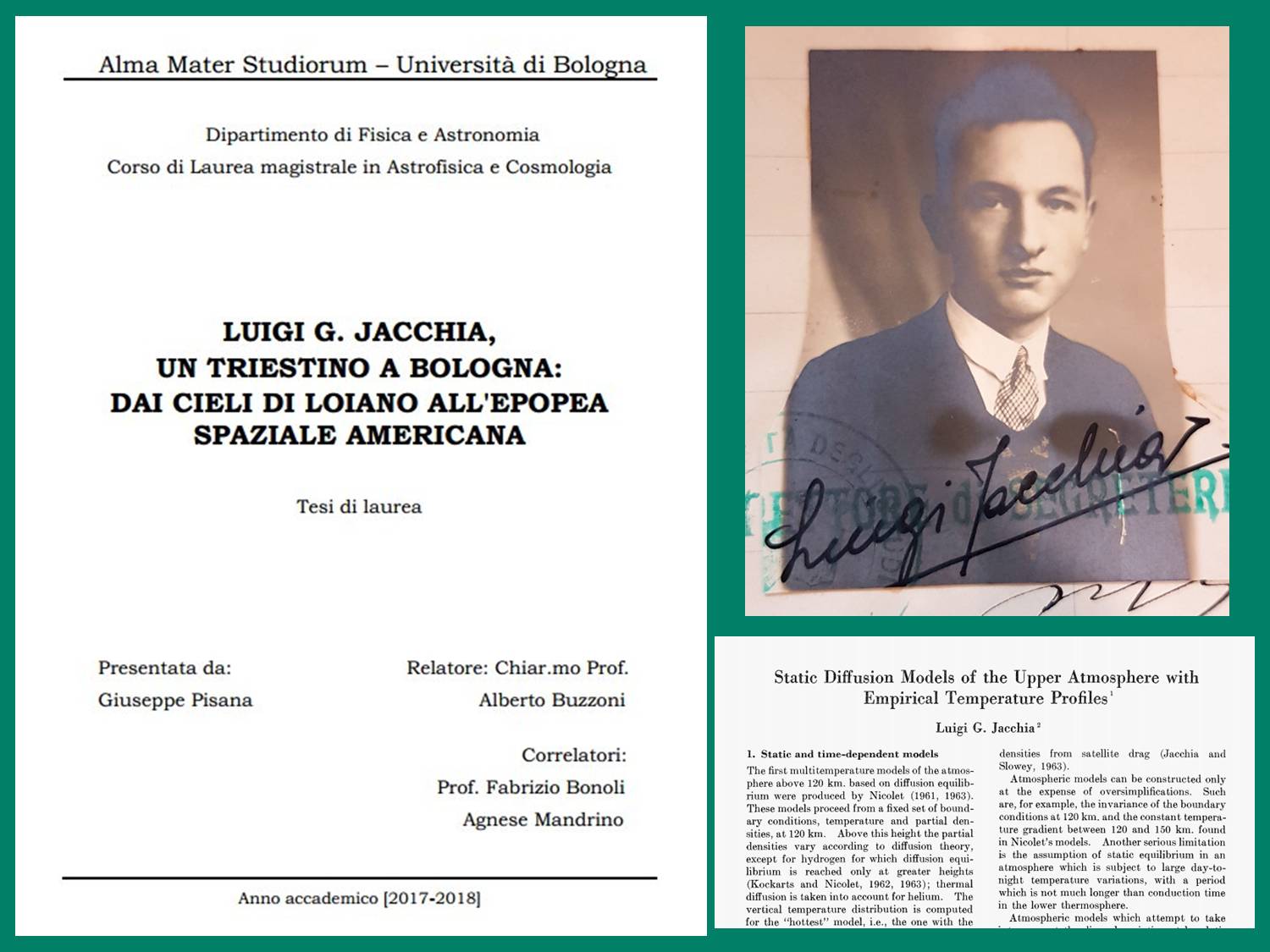 Feb 08, 2019
Buzzoni, A.:
"Toward a physical characterization of the Soviet/Russian constellation of Molniya satellites",
2019, an oral contribution to the XV Conference on Planetary Science, Firenze (Italy), Feb 4-8.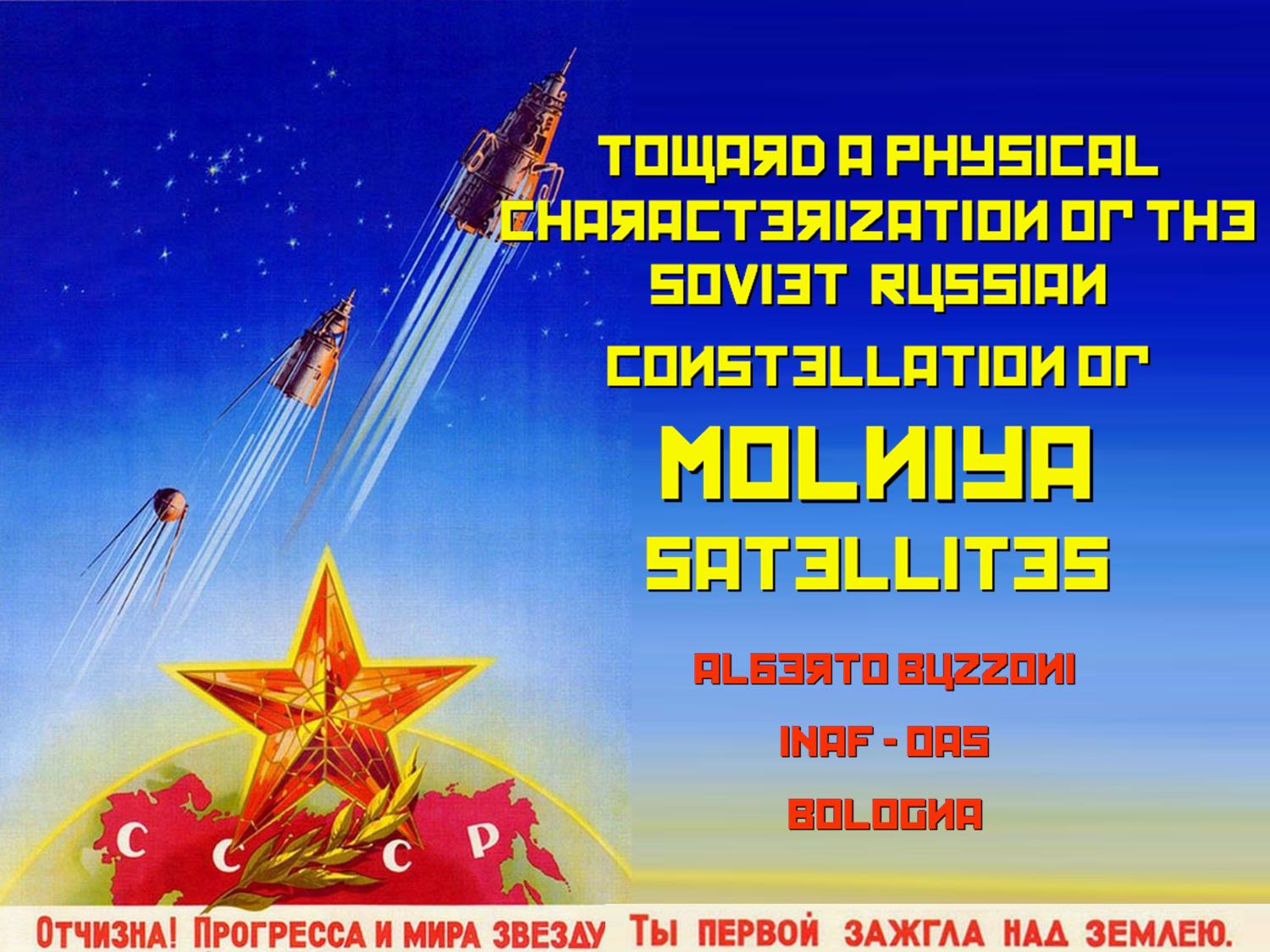 Dec 04, 2018
Buzzoni, A.:
"Verso una nuova Ecologia Spaziale: la sindrome di Kessler e il problema degli Space Debris",
2018, a public lecture for the European Week for Waste Reduction
Nov 19, Auditorium Comunale, Pino Torinese (TO), Italy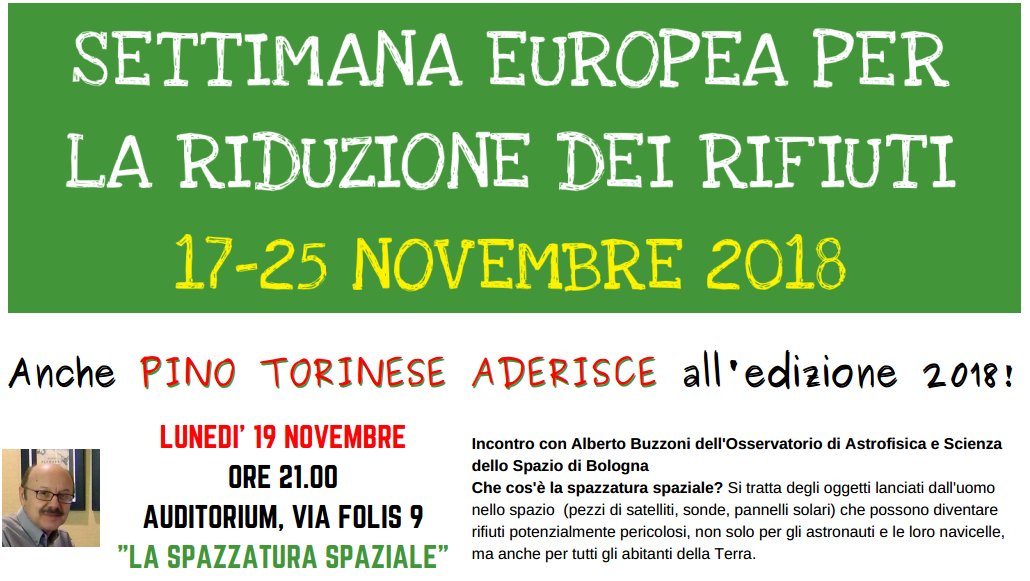 Ongoing Projects

Toward a full Astrodynamical and Physical Characterization of Deep-space Debris in Trans- and Cis-lunar Chaotic Orbit
in collaboration with: C. Colombo (Politecnico di Milano, Italy), D. Antonelli (UNIBO, Italy), M. Micheli (ESA-ESRIN, Frascati)
This project aims at characterizing from the photometric and astrodynamical point of view, the inherent properties (magnitudes and reflectance, as well as orbital evolution) of a set of (ultra) deep-space debris (mostly spent rocket upper stages) and spacecraft (both dead and active payloads, mostly high-energy space observatories) moving along highly eccentric cis- and trans-lunar HEO orbits, up to distances of 800,000 km from Earth. BVRI photometry and low-res spectroscopy is in progress together with accurate astrometric follow-up, within 0.2 arcsec across, such as to assess in fine detail the current dynamical status of these (mostly uncontrolled) objects and their envisaged orbital evolution, under strong and entangled Luni-Solar perturbation.

A spectrophotometric study of the Russian Molniya/Meridian Satellite Constellation
in collaboration with: G. Altavilla (INAF - Rome), A. Figer (France), S. Galleti (INAF - Bologna), J. Guichard (INAOE/CRECTEALC - Mexico), F. Matassoni (UNIBO - Italy)
An observing campaign for spectrophotometric characterization of Russian spacecraft Molniya/Meridian on HEO orbits is in progress. Optical tracking of Molniya class 1, 2, and 3 satellites plus the updated constellation of Meridian spacecraft (some 45 targets in total) is currently in progress from telescope observations in Italy and Mexico. For orbiting end-of-life satellites, we also aim at studying the long-term variation of spinning properties and its possible correlation with terrestrial magnetosphere influence.

Spectrophotometric Characterization of the Artificial Satellite Network in Geostationary Orbit
in collaboration with: G. Altavilla (INAF - Rome), S. Brambilla (UNIBO - Bologna), S. Camacho-Lara (CRECTEALC - Mexico), S. Galleti (INAF - Bologna), J. Guichard (INAOE/CRECTEALC - Mexico)
An observing campaign for spectrophotometric characterization of spinning and spin-stabilized Geostationary Satellite clusters (Telesat/ANIK, EADS/ASTRA, EUTELSAT/HotBird, HISPASAT, Meteosat, Mexsat etc.), undertaken to assess the envisaged astrophysical applications of satellite observations (e.g. to set photometric standards etc.). Ground-tracking data have also proven to be extremely useful for optimized attitude control and positional tuning of satellite clusters at GEO locations. Observations made use of mid-class telescopes (Loiano); a MSc thesis at UniBo has been supervised (Sara Brambilla, A.Y. 2010-11).
---